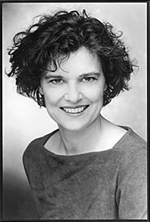 Kathleen Tolan: Thornton Wilder Fellow 2001
The MacDowell Colony in Peterborough, New Hampshire, has awarded its annual Thornton Wilder Fellowship to dramatist Kathleen Tolan. Her first play, A WEEKEND NEAR MADISON, was produced in 1983 at Louisville's Actor's Theatre and the Astor Place Theater in New York, and later across the country and in Europe. She has also written KATE'S DIARY, APPROXIMATING MOTHER, THE WAX and A GIRL'S LIFE, a finalist for the Susan Smith Blackburn Prize.
Ms Tolan trained as an actress, studying with such memorable artists as Olympia Dukakis, Peter Kass, Lloyd Richards, Uta Hagen, and Jerzy Grotowski. She has also been a member of Andre Gregory's company and the Manhattan Project (early 70's), as well as acting in productions in New York and regional theater, on television, and in film. She has won a number of grants and prizes, served on numerous panels, and received several commissions.
Thornton Wilder and the MacDowell Colony
The MacDowell Colony, founded in 1907, is a year-around retreat where artists are provided with an environment to work without interruption. During his lifetime Wilder had ten stays at MacDowell, the first in 1924. It was here — in one of the cabins where "colonists" work alone during the day — that he wrote parts of many of his most famous works, among them THE CABALA, THE BRIDGE OF SAN LUIS REY and OUR TOWN. In 1960, he was the recipient of the first Edward MacDowell Medal. The Thornton Wilder Fellowship, an endowed award, was established by the MacDowell Board of Trustees in 1990.