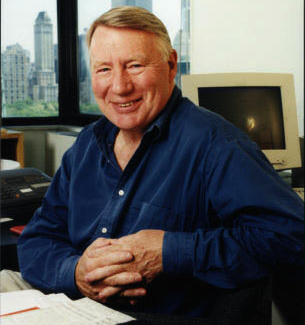 Barrow Street Theatre, 27 Barrow Street, New York, NY
Tappan Wilder, nephew of famed playwright Thornton Wilder and literary executor, and cast members of the critically acclaimed (Lucille Lortel Award-winning) David Cromer production of Thornton Wilder's Our Town, in association with The Thornton Wilder Society, will present the "Thornton Wilder Prize," to Robert MacNeil on Saturday afternoon, May 22, 2010 at the Barrow Street Theatre (27 Barrow Street).  The presentation of the award will take place following the matinee performance.  First established in 2008, and given every two years, the first award was given to author Russell Banks.
The Thornton Wilder Prize honors that individual who, in the opinion of the Board, practices his or her calling with the distinction, devotion and zest that characterized the artist for whom the prize is named. The Thornton Wilder Prize was established in 2008 with a donation from June Trolley, a friend of Mr. Wilder's. The Prize was first awarded to novelist Russell Banks at the "Wilder in the Twenty-first Century: The First International Thornton Wilder Conference," held at The College of New Jersey in Ewing, NJ in October 2008.
Robert MacNeil was a journalist for forty years with, successively, Reuters News Agency, NBC News and the BBC, culminating as executive editor and co-anchor of "The MacNeil-Lehrer NewsHour," a 20-year nightly partnership with Jim Lehrer on PBS.  He is the author of three novels, Burden of Desire, The Voyage and Breaking News; three memoirs, The Right Place at the Right Time,  Wordstruck, and  Looking For My Country; and co-author of  The Story of English and the sequel, Do You Speak American? Since 1993 he has been Chairman of the MacDowell Colony.  He and his wife Donna live in New York City.
In announcing the award, Tappan Wilder stated, "The Thornton Wilder Society and I are so pleased to honor our friend and colleague, Robert MacNeil, with the Thornton Wilder prize."