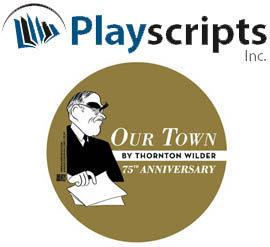 As part of the ongoing celebration of the 75th anniversary of Our Town, and in recognition of Thornton Wilder's position as one of the preeminent chroniclers of American life, Playscripts, Inc. and The Wilder Family LLC have created the Wilder Wilder Everywhere Video Contest.
The deadline for submissions is January 28, 2013 at 12:00 PM EST.
For more information visit the Thornton Wilder Society Events area, or for complete details visit the official Wilder Wilder Everywhere Video Contest page on the Playscripts website.
Playscripts, Inc. is an independent publisher of new plays and musicals, established in 1998 by brothers and playwrights Doug and Jonathan Rand for the mutual benefit of playwrights and theaters worldwide. Visit the Playscripts website. The Wilder Family LLC manages the literary and media rights to Thornton Wilder's works around the world. Visit the Wilder Family LLC website.