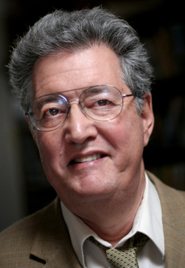 Tom Miller will present Thornton Wilder in Arizona, a lecture on Wilder's respite in Arizona, at the Sierra Vista Public Library, on December 4.
Miller will explore Wilder's Arizona sojourn, showing its importance in his literary life and America's literature. This unknown slice of Arizona's recent past will reveal the crossroads of a small border town with the American literary establishment.
Visit our Events area to learn more.

About Tom Miller
Tom Miller has been writing about Latin America and the American Southwest for more than thirty years, bringing us extraordinary stories of ordinary people. Miller's highly acclaimed adventure books include The Panama Hat Trail about South America, On the Border, an account of his travels along the U.S.-Mexico frontier, Trading With the Enemy, which takes readers on his journeys through Cuba, and, about the American Southwest, Revenge of the Saguaro. Additionally, he has edited three compilations, How I Learned English, Travelers' Tales Cuba, and Writing on the Edge: A Borderlands Reader.
Miller, a veteran of the underground press of the 1960s, has appeared in Smithsonian, The New Yorker, LIFE, The New York Times, Natural History, and many other publications. He wrote the introduction to Best Travel Writing – 2005, and has led educational tours through Cuba for the National Geographic Society and other organizations. His collection of some eighty versions of La Bamba led to his Rhino Records release, The Best of La Bamba. His book On the Border has been optioned by Productvision for a theatrical film.
Miller was born and raised in Washington, D.C., attended college in Ohio, and since 1969 has lived in Arizona 65 miles north of the Mexican border. He is a past fellow of the Gilder Lehrman Institute of
American History and holds membership in the Thornton Wilder Society and the Cervantes Society of America. He was a major contributor to the four-volume Encyclopedia Latina.
Well-traveled through the Americas, Miller has taught writing workshops in four countries and his books have been published in Europe and Latin America as well as the United States. In recognition of his work the University of Arizona Library has acquired Miller's archives and mounted a major exhibit of the author's papers. He has been affiliated with that school's Latin American Area Center since 1990, and makes his home in Tucson with his wife Regla Albarrán.
For more, please visit Tom Miller's official website.