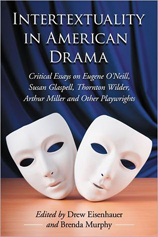 Kristin Bennet, a veteran of The College of New Jersey, the Society's headquarters, has been published in a new book. Intertextuality in American Drama, a publication from McFarland, features new essays on such diverse writers as Eugene O'Neill, Susan Glaspell, Arthur Miller, Maurine Dallas Watkins, Sophie Treadwell, Washington Irving, and Thornton Wilder.
The essayists offer numerous approaches to intertextuality: the influence of the poetry of romanticism and Shakespeare and of histories and novels, ideological and political discourses on American playwrights, unlikely connections between such writers as Miller and Wilder, the problems of intertexts in translation, the evolution in historical and performance contexts of the same tale, and the relationships among feminism, the drama of the courtroom, and the drama of the stage.
Intertextuality has been an under-explored area in studies of dramatic and performance texts. The innovative findings of these scholars testify to the continuing vitality of research in American drama and performance.
Intertextuality in American Drama is now available in print format.