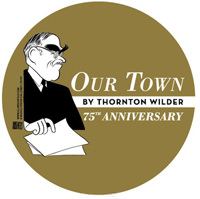 Join us for the 75th anniversary of Our Town at the historic Ford's Theatre at 7:00 p.m. EST on Monday February 4th. The program includes a short film entitled In Our Living and In our Dying: Our Town in the Twenty-First Century, which includes interviews with playwright Will Eno and actors such as Eric Stoltz; the presentation of the Thornton Wilder Prize to Rocco Landesman, former NEA Chair and successful Broadway producer; and readings from Wilder's works by D.C. area actors. Several members of the Wilder Society will be in attendance: Jackson Bryer (President), Lincoln Konkle (Executive Director), Edyta Oczkowicz (TWS Newsletter Editor), and several members of the TWS Board of Directors. Also Tappan Wilder, nephew and literary executor of Thornton Wilder will participate in the program. Note: there will not be a performance of Our Town on this night.
The event is free and open to the public, but tickets must be reserved by January 31st. To do so, please visit Ford's Theatre's official website.
To stay informed of other events and contribute to the legacy of this great American writer, please visit the Membership page for information on joining the Thornton Wilder Society.