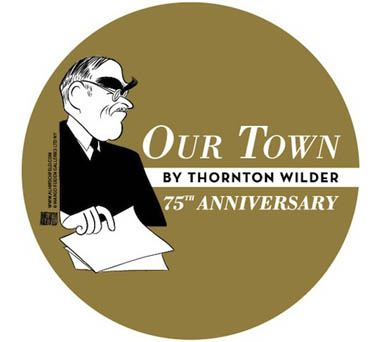 The year was 1938. After one performance in Princeton and a week's run in Boston, Our Town opened on Broadway on February 4. Later that spring, the play brought Wilder his second Pulitzer Prize.
Seventy five years later, Our Town is still considered one of the great American plays, and not a night goes by that it is not performed somewhere in the United States or Canada.
2013 marks the 75th Anniversary of Our Town! How will you be celebrating this milestone? Here are some of our suggestions.


In 2012, the director of Ford's Theatre, Paul R. Tetreault, discussed his feelings on Our Town. Beginning January 25, 2013, Ford's Theatre will present the 75th Anniversary production of the play. See "Attend Performances" below for more details.
In 2010, CBS reporter Mo Rocca composed a piece entitled The Lasting Impact of Our Town. The video includes a brief interview with actor and director, David Cromer, who will bring his production of Our Town to Boston in December 2012. See "Attend Performances" below for more details.
What was on Wilder's mind during the time he composed Our Town? To find out, read Penelope Niven's new biography about Wilder. The book, entitled Thornton Wilder: A Life, was released October 30, 2012. Visit Penelope Niven's official website for more information.
Huntington Theatre Company, Boston, MA, December 7, 2012 – January 26, 2013
Director David Cromer brings his groundbreaking and critically acclaimed new version of the beloved, Pulitzer Prize-winning Our Town to the Huntington. Visit our Events area for more details.
75th Anniversary Production, Ford's Theatre, Washington D.C., January 25 – February 24, 2013
Stephen Rayne directs this quintessential piece of American theater in celebration of the play's 75th-anniversary year. Visit our Events area for more details.
For more Our Town performances throughout 2013, please visit our Events area.


In honor of the 75th Anniversary, Ford's Theatre will host a series of special events.
Our Town 75th Anniversary Celebration
February 4, 2013, at 7 p.m. – FREE!
Ford's Theatre celebrates the 75th Anniversary of the Broadway opening for Thornton Wilder's Our Town. The Thornton Wilder Society's "Thornton Wilder Prize" will be awarded on stage at the event. Please note: This event does NOT include a performance of Our Town. Tickets are free but required.
Reading: Wilder's Classic One Acts
Monday, February 11, 2013, at 7 p.m. – FREE!
Ford's Theatre presents an evening of classic one-acts by Thornton Wilder read by students from American, Georgetown and Howard universities. The evening includes The Long Christmas Dinner, Pullman Car Hiawatha and The Happy Journey to Trenton and Camden. Tickets are free but required.
Our Town Pre-Performance Seminar
Tuesday, February 12, 2013 at 5:30 p.m.
Join us for a pre-performance seminar with Tappan Wilder, the playwright's nephew and literary executor, in a dialogue with Penelope Niven, author of a major new Wilder biography. A copy of Niven's newly released biography, Thornton Wilder: A Life, and a light dinner are included in the price of admittance. Tickets are on-sale to members and groups now for $40. Tickets go on sale to the public on January 6, 2013, for $45. Tickets to Our Town sold separately.
Did you know that Wilder himself played the famous Stage Manager character? Here we see the playwright during the Williamstown Theatre Festival, 1957.
What facts, photos, or interesting thoughts do you have about Our Town? Post your favorites in our Facebook Timeline area.